Table of Contents #
The Books #
In reading order, the books that I read during 2019 were as follows:
| Author | Title |
| --- | --- |
| Terence Kealey | The Economic Laws of Scientific Research |
| Charles Wheelan | Naked Economics |
| Bryan Caplan | The Case Against Education |
| Marcus Aurelius | Meditations |
| Daniel Keyes | Flowers for Algernon |
| Michael Malice | The New Right |
| Geoffrey Shaw | The Lost Mandate of Heaven |
| Christopher Dawson | The Crisis of Western Education |
| Cal Newport | Digital Minimalism |
| Hans-Hermann Hoppe | A Theory of Socialism and Capitalism |
| Isaac Asimov | I, Robot |
| James Grant | The Forgotten Depression |
Analysis #
Looking back at the books that I completed this year I came up with the following three ways to analyze them: by genre, by Flesch-Kincaid reading grade, and by google score. This is meant to help me look at my interests over the year, the relative difficulty of the books that I read, and their relative popularity.
Genre #
I have been unable to locate a simple and authoritative list of book genres. My amateur attempt at categorization yielded the following six genres.
Economics
Philosophy
Self Help
Science Fiction
Political Non-Fiction
History
Sorting the books into these categories it is clear that economics books were a hit with my reading list for 2019, making up nearly 50% of the total.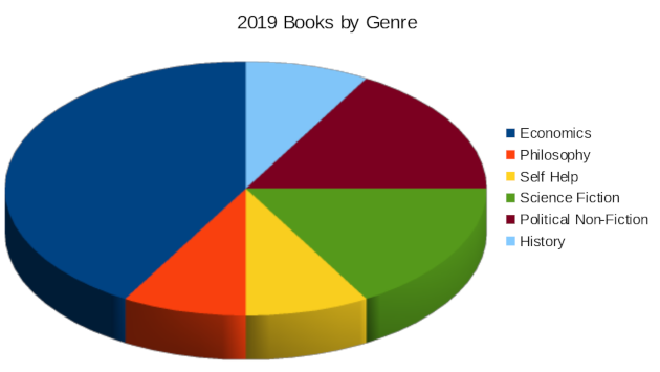 Flesch-Kincaid #
Per Wikipedia , the Flesch-Kincaid grade level presents a score as a U.S. grade level to make it easy to judge the readability level of various books and texts.
This grade can be generated in R with the koRpus package function flesch.kincaid. This is easiest to do if you can load the files in as a text file, or PDF (using the pdftools package function pdf_text). The results of running this on 11 of my 12 books (one book is on loan to a friend and inaccessible to me) is as follows.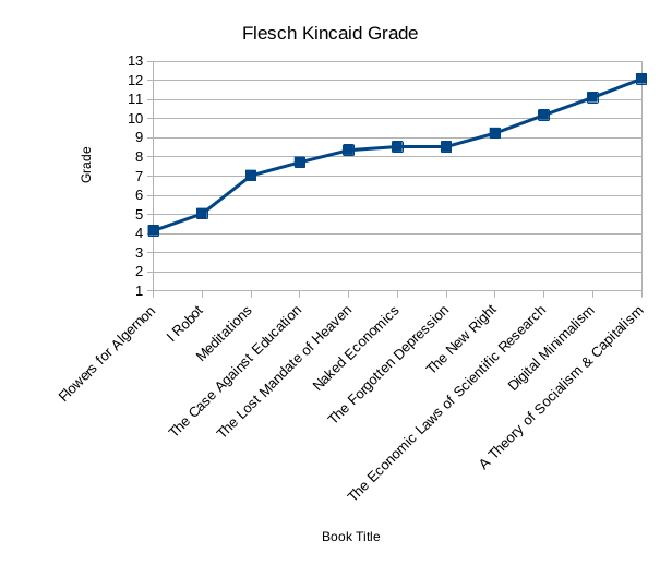 Note that these scores may differ from other officially published metrics because I did not run the test on the entire text of each book (transcription efforts would take too long). For files that I could obtain digitally I did not clear out any references or licensing information that may impact the score.
Google Score #
To assess the popularity of each book I googled the term "Book title" "Author name" for each of my 2019 books. I recorded the number of hits as of today (2019-12-22). This has clearly indicated that the oldest book (written up to 180AD) is also by far the most popularly referenced on Google search results.